The college admissions process is complex: choosing which universities to apply to, preparing for and taking entrance exams like the SAT or ACT, writing personal essays, getting letters of recommendation — the list goes on.
However, ensuring your child is prepared for college once the time to head off comes is often overlooked. After all, getting into a top tier university is meaningless if they are not ready to tackle the challenges their new journey will bring.
Here are 5 habits your child should instill into their routines during high school that will help them prepare for college:
Regularly managing their time
High school students are in the perfect position to develop time management skills, as they already have a semi-set schedule. Making sure they set time aside for homework, test prep, socializing, and extracurriculars will help them become more independent.
Developing a healthy routine
Most college students don't have the luxury of having home-cooked meals. They also aren't as likely to be part of a sports team that requires regular physical activity. If your child can insert daily exercise and healthy eating in their routine now, it will be easier to maintain those habits once they are on their own.
Create your own user feedback survey
Exploring interests through extracurriculars
High school is a great time to explore interests and passions. Whether it is the robotics club or the student newspaper, extracurriculars can help your child discover what they want to study in college.
Sleep, sleep, sleep
A consistent sleeping routine increases energy levels and our ability to focus and retain content. In college, parents are not around to set bedtimes, so letting your child develop these habits independently can make a huge difference later on.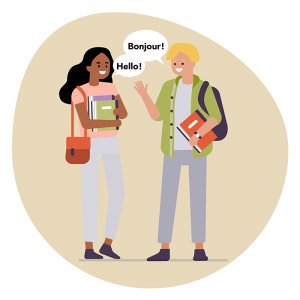 Embracing diversity
High schoolers who embrace diversity early have a better college experience. Consider teaching your child about diverse cultures and stressing the importance of learning a foreign language. They will thank you once they study abroad or meet students of different backgrounds — and who come from all over the world.